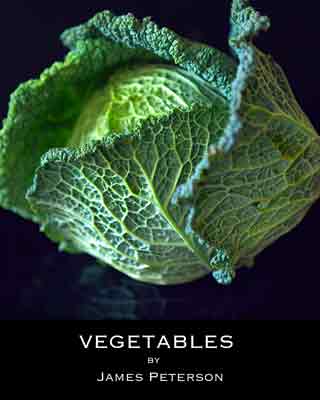 Have you ever seen vegetables like chayote, fiddlehead ferns, beet greens, or jicama and wondered how to cook them? With the popularity of farmers' markets and the advent of better shipping methods, there are vegetables available today that were virtually unknown just a few years ago. Or perhaps you love asparagus, potatoes, and Brussels sprouts, but you're tired of preparing them the same way week after week. Worry no more. Critically acclaimed author James Peterson has taken on the world of vegetables and created the most comprehensive work on the subject ever published. Just as he embraced Sauces and Fish and Shellfish in his previous award-winning books, Peterson has given us a book so authoritative, you'll never need another source on the subject.
If you're looking for advice on buying, storing, and preparing certain vegetables, Peterson covers everything from artichokes to zucchini, broken into more than sixty major vegetable sections (including dozens of more specific varieties). You'll find information on pairing Asian sauces with bok choy, the difference between chipotle and jalapeno chiles (actually they're the same chile, dried and fresh, respectively), and how best to prepare baked squash. The vegetable entries include helpful charts and cooking timetables, as well as cross-referenced lists of recipes using that vegetable, making the book even easier to use.
Step-by-step techniques, captured in full-color photographs taken by the author, are included. These helpful photo sequences cover basic methods like chopping and slicing onions, garlic, Swiss chard, okra, and more, as well as less common preparations such as glazing pearl onions and julienning roasted peppers. In addition to the techniques, there are beautiful photographs of scores of raw vegetables and finished dishes.
Hailed as one of the leading authorities in the culinary community, James Peterson has put his passion for food and his remarkable expertise to work in creating this wonderful cookbook. Not just for side dishes and not just for vegetarians, this book includes everything you'll ever need to know about vegetables, making it an essential reference work for food editors and professionals, as well as a personal collection of recipes for home cooks and food lovers to use in the kitchen.